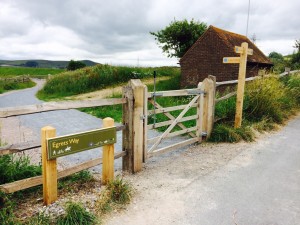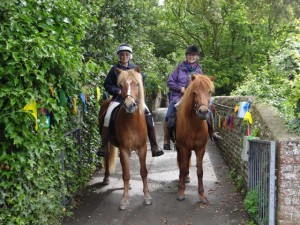 The second phase of the Egrets Way, between Southease and Rodmell, was officially opened on 7th June 2014!
The grand ribbon cutting ceremony was a somewhat damp affair but was well attended by walkers, cyclists and horse riders who all benefit from this new bridleway. It takes users safely off the busy and dangerous C7 to link the Southdowns Way National Trail (bridleway) and the bridleway Rodmell 1.
The path is intended to eventually run alongside the River Ouse from Lewes to Newhaven!
The phase 2 section was funded by Paths for the Community funding and as such had to be available to horse riders. Further phases are expected to be funded by government money with the aim to 'improve cycling in the South Downs National Park'. As such it is by no mean certain that new path sections will be available to horses and so riders must make their voices heard. A planning application is being considered 10th June at Midhurst and this must be approved before any future plans can be implemented.