An additional route for the Downs Link crossing of the A283 at Bramber is to be provided. The fast traffic and poor sightlines of the existing road crossing has proved difficult for many users, not least horse riders.
An alternative route going under the A283 using the River Adur road bridge is to be provided although the original crossing will be retained.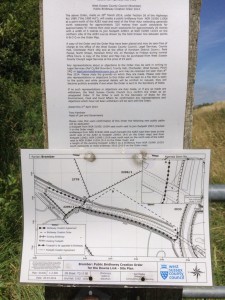 On the western side of the road the route will follow the existing access track(part of which will be the upgraded FP). This runs from the Downs Link alongside the river. At the river the route turns left to pass under the road bridge where it will turn diagonally left to follow a new path within the field which will rejoin the Downs Link bridleway just south of the road crossing.
On 17th July 2014 WSCC said that surfacing works are proposed to happen 'in the next month or so' and that clearance work north and south of the road is due to take place on 4th August. The Downslink to the northwest will also be subject to some vegetation cutback. They estimate that the route should be available to use about 3 or 4 weeks from when the works start.