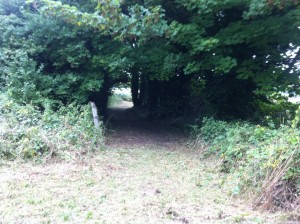 From time to time MSABG members organise clearances on bridleways where vegetation has become overgrown. By law, cutting back along the sides of a statutory BW is the landowner's responsibility while any vegetation springing up on the surface of the BW is the relevant authority's responsibility and usually the County Council. (The photo on the right shows an example of the so called 'Lesley's path'  cleared by MSABG).
However by agreement with the landowner or the CC, MSABG can often do such works which can make riding  route so much more pleasant.
MSABG has a Voluntary Clearance Officer who holds the group's tools and who arranges insurance cover  (our affiliation to the British Horse Society gives us insurance cover for any MSABG activity so long as a BHS Gold Member is present). We can sometimes organise someone with a strimmer or chainsaw and we are pleased to hear from anyone with such equipment who might be able to help from time to time.
A member who wants to mount a clearance should:
agree a date and time with the Voluntary Clearance Officer
outline what needs to be done and what tools will be needed
muster a group of willing (?) helpers – generally these are local people who will benefit from the work
get permission from the landowner and/or the CC for MSABG to do the work
For permissive paths we have to talk to the landowner as the maintenance and availability of such paths are totally his responsibility. However, most are pleased if MSABG offer to provide manpower.
We have established a good track record for responsible work and generally both landowners and CC are agreeable to our proposals. Cutting back vegetation regularly helps to prevent saplings seeding on the BW surfaces which can destroy the surface and narrow the usable width.
If you want (to organise) a clearance on a path that you use please contact us. to pass on your details.
MSABG avoids doing clearances between 1st March and 31st July (the bird nesting season) in accordance with Natural England recommendations.  Exceptions can be made though when vegetation over hangs or seriously impedes users of a Public Right of Way.
( Lesley's Path shown in the photo above is at East Chiltington after MSABG's work party had cleared it in September 2013. This is a roadside path on ESCC land which MSABG leases from them for all to use!)
  MSABG Clearances in the past:
Member Val Trunkwon and  Sue Coote our voluntary clearance officer, took some of our group tools along and met up with at New Barn Farm and did a successful clearance. -November 2022.
Bridleway Cuckfield Rural 26 running between Broxmead Land and Pickwell Lane. The ditch was cleared from leaves and branches/debris to allow the water to flow freely and not cause the surface to be washed away – 2020.
 Bridleway Streat 7 was overgrown before and after the railway bridge. Because MSABG did not have the machinery to clear this along with a very boggy part of the bridleway which had become almost impassable, we contacted  ESCC Right of Ways team regarding this problem and they thankfully cleared the blocked section – 2017.
The vegetation along the Bridleway East Chiltington 30 (Plumpton Lane to East Chiltington Church) has now been cut back – October 2016.
 Bridleway Westmeston 11 was cleared between Bunkers Hill through Meadowsweet Ford including the boggy section alongside the Mid Sussex Golf Course. This included a team of 40 woman hours and 2 man hours. This left a lovely stretch of path to ride – 2016.
Bridleway St Johns (Without) 8 (Spooners Farm) off Chilington Lane, East Chiltington – 29th Nov 2015.
 Bridleway Ditchling 69 alongside the B2112 north of Ditchling Common Country Park from north of St George's retreat to Jacobs Post – 1st June 2014
Woodmancote 2738 (Catslands Lane) – the section south of the first bridge (more still to do!) – January 12th 2014
Path alongside B2116 opposite Mount Harry, St John Without – 1st December 2013
Lesley's Path alongside B2116 at junction with Novington Lane, East Chiltington – 22nd September 2013