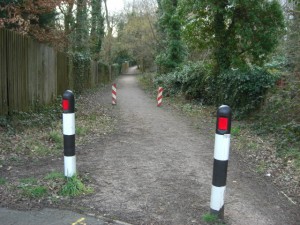 Burgess Hill Town Council tell us that work to upgrade the surface of Footpath 17 that runs up from the railway station car park and joins B/W's 16/18will start on 24 March and is expected to take approximately 6 weeks.
As part of this project they will also address the flooding issues on B/W16 (there is the really bad bit half way between Keymer Road and Oak Hall Park). They will also sort the surface on the other side at the entrance and will also raise the level of the path at the railway line end.
The contractor has asked for a total closure on this path for safety reasons. Riders have been advised of the closure by notices on site for 10 days prior to the proposed start date but exact dates may be affected by the weather!
BHTC say that they will endeavour to give people as much notice as possible and in order not to have to close B/W 16 for longer than necessary and will need to ask that horses are taken over any repair works carefully to allow it to settle. Please adhere to this to help the lifespan of the surface. I really does make a difference!