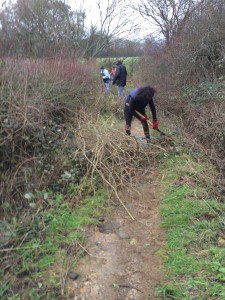 'We always used to do a post-Christmas bridleway clearance' was the casual comment by MSABG Clearance Officer, Sue Coote that sparked us into action on Catslands Lane, Woodmancote.
 On soggy January 12th, seven local riders plus MSABG committee members, Sue Coote and Hilary Pierce, made some good progress in cutting back the hedge vegetation on the 'second section' of this path south from Bramlands Lane.
 The path is ditched on both sides but is partially clogged and overgrown by saplings and bramble that have seeded themselves from the hedgerows.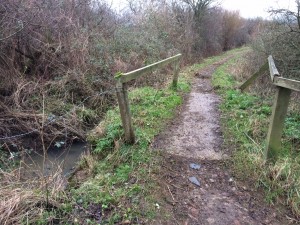 A good length of the path was cleared so that riders can use the full width.  Once the weather improves we hope to have a second bite at this cherry.
Thanks to locals Sue Beck, Angie Brown, Laura Battershill, Debbie Bugden, Elisa Lawrence and Leila & Dan McCormick. See you next time!