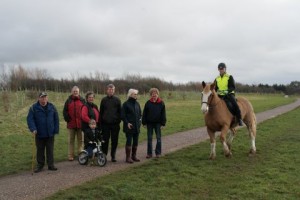 A milestone in the life of the Green Crescent paths was reached on the     8th January when the formal dedication of around 2 miles of new Statutory Bridleway was celebrated.
 These bridleways, tracing the south/west perimeter of Burgess Hill, will now be protected for everyone, including horse riders to use in perpetuity. They form a much appreciated off-road link between the Keymer Water Tower bridleway (Burgess Hill 19) and Pangdean Lane bridleway (Hurstpierpoint 80) and include also various access links.
 The paths have been established gradually since the early 80s and have been used by local riders permissively as they have become available. Securing formal dedication has been a lengthy process and MSABG has been on the case all the way!
 MSABG thank all those who have supported this aim through the years most especially MSDC (Rupert Browning) over whose land the paths run.
 Pictured from the left are Les Campbell, David Evans, Sue Coote with grandson Oli, Rupert Browning, Hilary Pierce, Tricia Butcher and Becky Davis on Major Tom.