Brighton and Hove City Council have included a new bridleway route within their Patcham Open Access Scheme between Stanmer Park and the A23.
A totally new, long east-west bridleway is provided.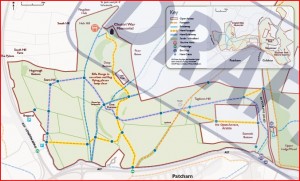 It links the Upper Lodges bridleway in Stanmer Park with the Sussex Border path at Pangdean/Patcham. The new BW crosses the Sussex Border Path south of the Chattri memorial and then meets it again at the bridleway bridge that crosses the A23 near the RSPCA. A new ramp has been constructed to take the new bridleway up the bank opposite where the existing bridleway crosses the A23 so that the two link up.
This new path will provide not only a far more enjoyable path than the one alongside the A23 but also links with existing bridleways to allow new circular rides. Distance riders may be particularly please with this new east-west link.
The especially good news is that the new path is to be dedicated and will become a statutory bridleway. It is great to know that this bridleway will be available forever – permissive paths can be so easily withdrawn!
The full information board details of the Open Access at this site can be found from a link on the B&H website page https://www.brighton-hove.gov.uk/content/leisure-and-libraries/parks-and-green-spaces/open-access
NOTE: there is currently no rider representative on the B&H Access Forum – anyone who is interested should contact us. With a rider rep we could keep abreast of developments like this!