Summary: Order not Confirmed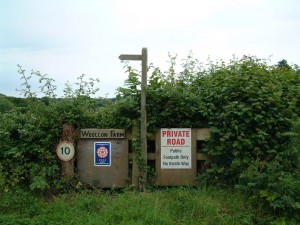 The Order for upgrade of this track from FP to BW was not confirmed by the Public Inspector who conducted the Inquiry which started on  24/25 April and was completed  6/7th August after an adjournment through lack of time to complete at the first session. Such a disappointment for all riders in the area that this link which avoids use of the dangerous Bowling Green Rail crossing will no longer be able to be ridden.
A very basic summary is that the Inspector decided that a request in the mid 80s  to ESCC, who were then the owners of the track, to have it's recorded status upgraded from FP to BW should be the date of the 'coming into question' of the route. This was in 1986/7 and involved the BHS, MSABG, the Parish Council and others. So the general public was considered to have been aware that the ridden use of the path had been brought into question through those bodies. The 20 years during which 'sufficient' user evidence had to be shown was thus from 1966/7. And there was not enough of this!
The map and other evidence submitted was considered to contribute to the reputation of the track as a BW. However map evidence can only ever be supporting evidence –  one cannot prove that the general public used a path, only at what times in the past it was observed on the ground.
The landowner's barrister applied for costs but this was refused by the Inspector.
If anyone wants a copy of the Order Decision or the Costs Decision, do ask or it is on the PINS website.Thanks to all who gave their time, energy and expertise during the lengthy and at times very stressful process only to be disappointed by the outcome.