On the weekend of 14th Jan 2018, National Rail undertook maintenance work on the crossing of bridleway East Chiltington 34 at Bowling Green, East Chiltington.
Before the works: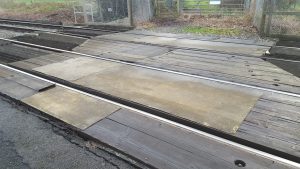 After the works: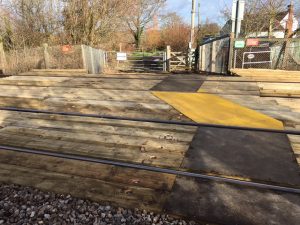 Despite best efforts and even with the intervention of the British Horse Society on our behalf we could not obtain detail of what was planned before the works. Nor would NR take on board that this was an opportunity to fix some problems for horse riders that had been reported in the past. So not surprisingly no improvement for horses has resulted. In fact:
The gaps are still wide and deep (one serious accident and several pulled off shoes has not informed any change)
The phone boxes have been replaced so now both cannot be operated with one hand (the doors slam shut too quickly). Previously one was 'faulty' and could be used easily when on horseback
The non-slip strip for horses had been replaced by a narrow zig-zag route with the centre portion bright yellow. We have had NR change this pronto!
Note that NR say that it is not their policy to install, at BW crossings, the soft and non-slip STRAIL surfacing as has been done at the EC road crossing and the Spatham Lane road crossing.
NR Action We are in discussion with NR about the need for riders to be able to operate the phone with one hand but they say that they have had no complaints about these or any other phone boxes at crossings in the South-East.
Your Action So please let MSABG know about any problems that you have at this crossing. Those of you who use these or any other phones to cross rail lines please do give us some feedback. NR are keen to "do their best to make this problem better" but do need some input from users – while all is quiet they assume all is OK.
ESCC Action The RofW team will be looking at the gate on the south side to see if it can be adjusted to make closing it from the inside easier and we have also asked if this gateway's surface could be added to this year's maintenance works – it has become very poached, presumably as riders are trying to reach and pull the gate closed.
National Rail asks that riders should report ANY problems that they have at the crossing to the signaller via the crossing phone. They say that only the one incident in 1991 was reported which they take to mean that no-one has had any problems here since then! We have asked for a telephone number to be posted on the boxes so that people can photograph it and call when they get back to their yard.