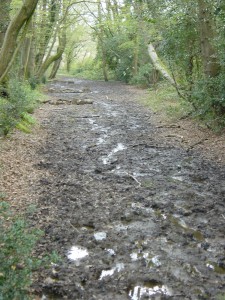 The long awaited works to Restricted Byway Plumpton 9 (Deans Farm to St Helena Lane) are scheduled to start on 12th July.
The path will be closed for a minimum of 21 days.
For map see
12th July – Works have started. Ditching and clearing will be followed by a rest period to let the surface settle – we presume that the spoil is being used to raise and level the path.
Machinery was still parked on site but no sign of actual surface work resumption could be seen when we checked in early September.
*UPDATE*
17th October 2016 – the major surfacing works have been completed and the byway is open for use
For the record, the work involved
425 metres of new limestone surface on a base of concrete hardcore
675 metres of ditching including ditches on both sides for most of the way
5 culverts – a total length of 47 metres 
There is a newly installed staggered barrier at the northern end of the byway to prevent vehicle access.
Riders have been waiting for over 10 years for this! Happy riding to the huge number of people in the area! Do convey your thanks to ESCC for such a fine job. We have!
(Photo courtesy of A.Ingram -Area Rep)