Further Bridleway Clearance in Chailey/Barcombe
Not deterred by the overnight snow on 17th January, a small group of MSABG members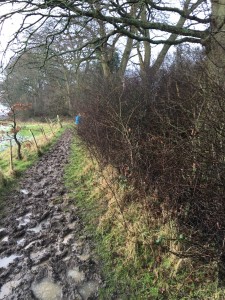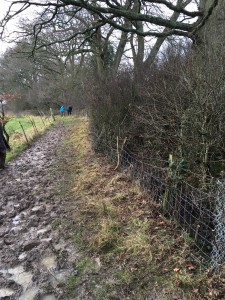 gave the blackthorn hedging at the eastern end of bridleway Barcombe 50 a good haircut!   The path is at Harelands Farm/Holman's Bridge and is known to local riders as 'Farmers Fields'.
The photos show just how much four people can achieve in a fairly short time. Thanks again to Jayne Block , who once again organised this clearance and to Marina Bury, Tricia Leitensdorfer and Hilary Pierce for their efforts.
Interestingly it turns out that the short stretch of path leading from the road to the corner where the work took place is not actually bridleway status. The signed path takes a route straight from the road to this corner but has had a post erected to deter use. The used track, between two barbed wire fences, shows on maps simply as a path with no status.
At the same time Liz Ortac did a couple of hours cutting back some high branches on the Chailey 8 RB behind the brickworks. She reports that for tall horses there could still be some further work needed for real ease of access.
Thanks to all once again for this second bout of work in this area. And look out for more – these riders are on a roll and realise what just a few hours in the 'Green Gym' can achieve.
Anyone who would like to organise something similar for the area that they ride do please contact us – details are on the Clearance page of this website.