Pyecombe 4 Bridleway Works  – July 2015
Update 3rd August – Contractors arrived on schedule today!  They are expected to take 2 -3 weeks BUT THE PATH WILL REMAIN CLOSED FOR A FURTHER 2-3 WEEKS TO ALLOW ESSENTIAL CONSOLIDATION OF THE SURFACE"
map Py 4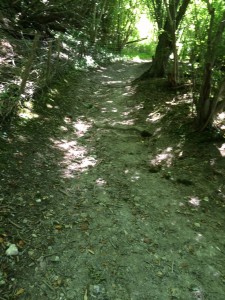 10th July 2015 – WSCC have started clearing vegetation in advance of surface and drainage works on this bridleway that runs from New Way Lane, Clayton up the hill towards The Three Greys Riding School. They expect to take about another week to complete before the contractors can come on site.
The stretch from the lane up for 327m towards the junction with bridleway Py 25 will then be re-surfaced.  Bridleway Py 25 which runs down to the dew pond should remain accessible from Py4 from its southern (Three Greys) end.
We are told that drainage of this very steep BW will be attended to which with   the re-surfacing will hopefully prevent , or at least delay, onset of the boggy areas which have in the past plagued this path.
WSCC expect the path to need to remain closed for some time after the contractors have finished to enable the path to settle. Please respect this while the notices and the striped tape are in place (and please do not remove the tape!!!!)
Once re-opened please try to use the whole width of the path – this prevents gullying (especially important on these steep scarp paths) and also helps keep the vegetation at bay.
Thank you.