LOWER BEEDING.  Public Bridleway 1735 (part) ..temporary closure from June 8th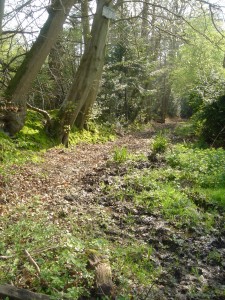 SLAUGHAM: Public Bridleway 19s (part)..temporary closure from June 8th
The closure is necessary due to surface & drainage improvements.  The closure notice will last for 21 days and is likely to be followed by a further closure.  This information comes from the Rights of Way Officer, WSCC.
UPDATE 20.6.15
The path Lower Beeding 1735/Slaugham 19 (Freechase Hill) has been closed  for surface repair and drainage works since 8th June 2015.
WSCC tell us that barring any unforeseen problems, the works should be completed by the 29th but may need some additional 'settling' time depending on the weather. Gentle rain that encourages the small grade topping down into the larger under layers is ideal and encourages longer term stability of the surface.
This path has been high on MSABG's radar for needing attention since 2006 when in particular the 'slab' bridge in the woods was difficult to use chiefly because of the boggy ground each side but also because of a gap between slabs. A new bridge was installed in August 2008 but unfortunately the ground each side was not improved and actually the bridge with rails (health and safety strikes again!) was more difficult with risk of stirrups catching as the horses jostled to find some safe footing before stepping on to the bridge.
In April 2009 the whole path was quoted as being found "difficult to negotiate, with the good parts heavily outnumbered by the bad, or absolutely diabolical!". 
It is really pleasing to hear that the worst section of this path is at last getting some attention. Riders from Eastlands Farm will be particularly pleased to have this local path back in use since their riding possibilities have recently been curtailed by withdrawal of permissive riding arrangements over the estate."
Map:  the red line shows the part of the path where the works are being done.